Once again I'm joining Emily Freeman over at Chatting at the Sky for her monthly What We Learned link up. You can learn quite a lot of interesting things by reading the participant's contributions to this always fun, factual, and sometimes frivolous exercise. As for me, here's…
What I Learned in March
…that I had a different identity and didn't even know it!   …or 
…why I haven't been able to comment on blogs with my WordPress.com account
Several months ago I created a website on wordpress.com to give my Bible based photo challenge a bit more exposure. It hasn't exactly succeeded in that regard, but I found it would at least prove useful in allowing me to leave comments on wordpress.com blogs requiring I be a registered user logged into my account. Not! Whenever I commented and proceeded to enter the required info (author, email, URL), I got an error message saying "You do not own that identity".  Frustrating.  I Googled, I consulted support, signed out, signed in, I tried and re-tried…and still the same message saying, yet again, "You do not own that identity".  Excuse me cyber-police, but I DO own that identity!!!  Then, one day in early March I some way, somehow happened to notice a teeny, tiny mistake I made when creating my site, and as it turned out…I, in fact, DID NOT own the mark430photoaday.wordpress.com identity. Of all times to make a typographical error, I apparently made one when I created the site, leaving out an "a" which made me the owner of mark430photoday but not mark430photoaday. Like the Patriarch Isaac, I was guilty of a case of mistaken identity. All was not lost though, since, as a result, I learned yet another thing in March…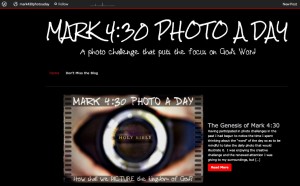 …that you can rename your wordpress.com website if you want, or, as in my case, need to
All fixed. I had so much fun creating this site that I couldn't bear the thought of deleting it when I realized the name was wrong. I doubt any of you would find yourself in a  similar situation, but in case you do want to change your blog name, or find yourself with a mistaken identity in the blogosphere, go here for all the how to information.
…that on your Android smart phone or tablet you might be able to see a fun, hidden animation telling you what operating system you're using
I know…you probably couldn't care less about what operating system your phone uses, but this is still fun to see. Go to Settings on your Android device, tap on "About phone/tablet" and then tap repeatedly on "Android version…" until you see the fun, colorful animation you didn't know was hidden inside that smart phone of yours. Ready for more fun? Long press on the animation and see what happens. If your phone/tablet is running Jelly Bean, you can even move these surprise visitors around once they show up.  I've also heard there are times a hidden candy cane might appear in the mix. I haven't seen it, but my husband saw it on his first try. Useless, but fun.
…that people might be reading my blog more than I realized
While perusing my Pinterest feed one day I noticed a graph and accompanying blog post discussing bounce rate. Honestly, I have no idea why I clicked through to the website since I was only vaguely familiar with why this mattered, but I'm so glad I did. It turns out that bounce rate is related to something I have been puzzled, not to mention discouraged by, on my blog…visitor engagement. On any given day I might have as many as 50 visits to my blog, but honestly it hasn't mattered much to me since most of the time I notice the visits are short-lived, not even registering on the blog Richter scale. My analytics page reveals that many of my visitors remain on site a whopping 0.00 minutes. Really? I've assumed their search landed them on my site only to discover it's not appealing or applicable and off they go. "Even if I got thousands of visits, who cares if they're bouncing out so fast they never read my content", I concluded. Ah, but not so fast (no pun intended). Who knew that Google Analytics doesn't measure the time someone spends on site unless said visitor visits more than one page. Since so much content is contained on the landing page of blogs, visitors could be reading for quite a while yet still be recorded as remaining on site for zero minutes. What can I say…I was so encouraged by this piece of information that my heart's "bounce rate" spiked with the news.  Need the same encouragement? Find out more here.
While lunching seaside with our wonderful neighbors one day, I heard them ask the waitress if they served an Arnold Palmer. A what? Is it because I never followed golf that I had no knowledge of what this drink request was? Having just finished reading I Don't Know
, a short book with the telling subtitle, In Praise of Admitting Ignorance, I decided to admit mine and ask. Answer: Iced tea combined with lemonade. Simple, delicious, and one more thing I learned in March…as a result of being willing to look ignorant.
So, once again, I leave you with the quote that might just be one of the most important things I've been learning these last few months….
"I've seen how you can't learn anything when you're trying to look like the smartest person in the room." ~ Barbara Kingsolver
This post contains my affiliate links