I definitely went overtime, but here's this week's Five Minute Friday entry.  
The prompt: Truth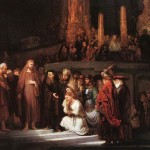 Then the scribes and Pharisees brought to Him a woman caught in adultery. And when they had set her in the midst, they said to Him, "Teacher, this woman was caught in adultery, in the very act. Now Moses, in the law, commanded us that such should be stoned. But what do You say?"
They confronted Him
with the truth…
they confronted Him
with the Law.
Now they would see. Would He obey it?
"But Jesus stooped down and wrote on the ground with His finger…"
To this day it remains a mystery. We don't know what He wrote.  But we do know this…that finger had written before.
And He gave unto Moses…tables of stone, written with the finger of God.
Yes, once again, the finger of God wrote.  And although we're not told, could it be He wrote what He'd written before? What He'd written with His finger before… on those tables of stone?
Maybe by what He wrote He did what these scribes and Pharisees, these  "teachers of the Law" had done when they'd come to Him. Maybe…
He confronted them
with the truth….
He confronted them
with the Law.
 Now they would see. Had they obeyed it?
"Let him who is without sin among you be the first to throw a stone at her."
One by one they left, confronted with the truth…of their own sin.
Yes, I'm convinced that, once again, God's finger wrote truth.
When Jesus had lifted up himself, and saw none but the woman, he said unto her, "Woman, where are those thine accusers? hath no man condemned thee?" She said, "No man, Lord". And Jesus said unto her, "Neither do I condemn thee…
Oh the glory, the overwhelming goodness of grace! She was shown mercy.  He had ministered grace…the grace of no condemnation.
But what about truth?  What about that truth written by the finger of God?  What about the Law? Does grace compromise truth?
With this adulteress, did Jesus end with "neither do I condemn you"?  No, He went on. He went on to say,
"Go and sin no more."
He confronted her
with the truth.
                  He confronted her
with the Law
…the Law that said adultery was sin.
No, Jesus didn't deny the truth.  He didn't show grace at the expense of truth for grace never lowers truth's demands. But Jesus knew something. He knew that the Law demands but it does not provide the power to meet those demands. Only grace does that.  The grace of no condemnation is the power to sin no more.  Yes, Jesus knew that grace makes possible what truth demands.
And He knew something else too. He knew that the Law He had written thousands of years before and just possibly then, in the presence of this woman and her accusers…He knew He would write it again.  But this time it would not be written on the stone tablets of Mount Sinai or on the dusty ground of Judea. No, He knew that when He wrote it again, this time He would write it on human hearts. Hearts that had been softened by the ultimate truth…the truth of His amazing, empowering grace.
For the Law was given through Moses; grace and truth were realized through Jesus Christ.  John 1:17