I thought I'd take some time to join in the fun over at Emily Freeman's as she hosts the What We Learned fall link up. I've learned lots of things in the last nine months of being in Atlanta and away from my normal life, back in the working world…but who wants to hear about bookeeping and working in a workplace full of men. Other than learning of all the amazing restaurants in Atlanta (one of which is pictured above), here's a few other things I thought I'd share….just for the fun of it and because it's been ever so long since I've been in this space. I've missed it.
…the grass is not always greener
I've always been intrigued by vibrant cities with their seemingly endless opportunities for new and exciting adventures. I often find myself wanting to do all the things in all the places. Atlanta is one of those places. Since our son has lived there for the last eight years we've made several trips, but they've always been like a tease to me since we never stayed long enough to experience all I knew the city had to offer. This year that changed. In March we decided to set up camp. We've been exploring, enjoying, and eating our way through A-town ever since. Don't get me wrong, it's been great fun, and the memories we've made with our son I wouldn't trade for the entire world. Nevertheless, after nine months of seeing and doing, I can honestly say it has additionally served to make me appreciate our usual residence even more. Turns out I haven't necessarily been missing out. God knows what truly satisfies me even better than I do. I'm so thankful for the chance to experience Atlanta, but I'm more thankful for St.Pete and the God given, tailor-made blessing it is to me, than ever before. (I do suspect I'll need to revisit this post when the inevitable cravings for some of the most amazing food I've ever eaten make me salivate with longing)
…..about a surprising royal romance
One of my very favorite TV shows is the legal drama Suits (if they would just clean up the language it would be perfect). The story line centers around a young "lawyer" who, unbeknownst to most everyone at the firm, never even attended law school. As the show's seasons progressed this "lawyer" meets, falls in love with, and is now engaged to a beautiful paralegal played by actress Meghan Markle. Recently, I noticed a girl who looked just like her pictured on the cover of a magazine with Britain's Prince Harry. "Wow," I thought, "she's the spitting image of that girl on Suits!" I opened the issue only to discover she didn't just look like her…it was her! And according to all reports, she suits the charming Prince just fine.
….Donald Trump might, in fact, be really good at choosing the right people for a job
It turns out the most recent news-making choices our President-Elect is making are not his first. There's another list of men and women he chose, before he even won the election, that could make an enormous difference in the way our country runs. They are those that make up his evangelist advisory board. The members include such notables as James Dobson, David Jeremiah, James Robison, and Michele Bachmann, to name but a few. (See the entire list here) Personally, I find it comforting to know there are biblically sound, seasoned men and women of stellar integrity surrounding our soon to be president. May we too do our part as we obey the admonition in I Timothy 2:1-2
First of all, then, I urge that entreaties and prayers, petitions and thanksgivings, be made on behalf of all men, for kings and all who are in authority, so that we may lead a tranquil and quiet life in all godliness and dignity.
….about a wonderful artist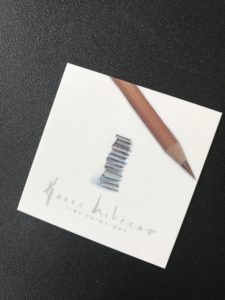 While attending an art show in Atlanta last month, I discovered a terrific artist whose art I simply adore. Karen Libecap's Tiny Art drew me into her tent and kept me there perusing a seemingly endless display of the most ordinary, everyday things drawn with incredible detail and even more incredible tininess. I dare say nearly everyone could find at least one of her pieces that would speak to one of their own unique interests or meaningful memories. To me that's what art is about…finding that personal connection that speaks to you. I left the show that day without making a purchase, but my husband contacted the artist and surprised me on our anniversary, having bought my two very favorite drawings….a huge tiny suprise! To see her delightful work click on Tiny Art here.
….I made a classic sibling slip-up
I've loved reading classic literature. Austen, Thackeray, Hawthorne, Tolstoy. Reading time-honored literature from another era gives me a distinctly different feeling than any other type of book. Upon finding myself with nothing to read on one of our trips this fall I combed through the selection at our hotel's book-lending library. It was slim pickings, but to my delight I thrilled at the sight of a title that was not only a classic, but also one I had never read…Jane Eyre. Score! There's nothing like a new old book and lots of time to read it. My enthusiasm was suddenly dashed though once I noticed who the author was. Brontë. Years ago I had begun Emily Brontë's  Wuthering Heights but didn't enjoy it. However, I was desperate to have a book to read so I decided to give it a whirl. I was riveted. I didn't want to put it down. It gave me that wonderful feeling I get only when reading a classic. Oh, the joy. As I approached the end, dreading it coming to an end, I began to think maybe I should give Wuthering Heights another chance. It was when I got online to see about getting it that I discovered that for all these years I had somehow missed the memo. There are two Brontë sisters. And this Jane Eyre Brontë was not the same Brontë of Wuthering Heights. How did I not know this? Every time I'd seen that surname I had lumped it in the same Brontë basket and figured I wouldn't enjoy anything authored by her. And I now know there are not only two, but three Brontë sisters who have written books. Okay, so I might be one of the few people who didn't know this. Think of the joy I have to look forward to in getting to know these siblings on a first name basis!
That's all for now. Happy Holidays….